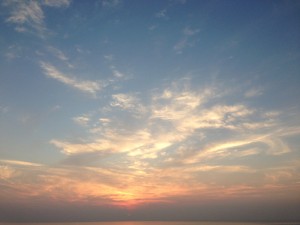 Speak from your heart the latent truth which resides there and it will emerge into the dream world as fact. Nurture the innate wisdom you carry inside by spending time in solitude and silence. Trust in that which arises inside you and guides you to face your fears, to love, to serve and to humble yourself. Open your heart by giving to someone in need. All sentient beings deserve your love. Be grateful for everything that has happened in the past. It has all happened for a reason, to bring you to this point in time. You are blessed. You have everything you need. LIfe is a gift. To see this life as a blessing, practice acceptance, forgiveness and compassion. In doing this you will step into and activate your true nature thus embodying your full potential. This action manifests dormant passions and stimulates your heart's voice, revealing your purpose for being. Your calling is to love, serve and remember, to remember why you are here and who you truly are.
You are much bigger than you think.
Understand this; you are not the tiny mind that bleats worrisome thoughts inside your brain nor are you the fearful and impotent being you imagine yourself to be. You are not controlled by the media, the government or society. You are not the one who is enslaved and tortured by the stories and lies the mind spins. These ways of deceit and deception that arise in your mind are not true. They are not you and you are not bound to what they say. You are not the story you tell yourself. You are not the tiny mind, timidly living out your time here waiting to go someplace else, some place safer, better, quieter. Life is not a waiting room. You are here now in this moment to wake up and know this as fact. You are the Big Heart, the Big Mind, the Big Love that holds everything in existence. You are the energy that is comprised of love, courage, compassion, joy, bliss and contentment. You are what you are seeking. Nothing needs to be added to you to actualize your True Self and embrace your True Nature of Mind. Do this; stop looking outside for it; seek inside for the answers. No one else can or will acknowledge your true beingness for you; you must do this for yourself. There will be no outside validation of your innate wisdom. There is no one or no thing to be enlightened. There is no tiny mind. The tiny mind, the tiny self, is the only thing in existence that isn't real. The illusion of self, a separate me, mine and I is all that is holding you back from total freedom. There are pointers to this truth and they are simple.
Be Still.
You are what you seek.
Love is your foundation.
See this inside you.
You are everything and nothing – Be this no thing – Be this everything.
Embrace not knowing.
Throw away being clever.
Stop being right.
You are not broken.
The world is not broken.
Nothing needs fixing.
You are free.
You are not the thoughts that arise in your mind.
Stop. Listen. Breathe and just be YOU.